SKU: CT-IPEH-002220
PCAN-Router Pro FD
Regular price

$1,937.00
Sale price
Pricing excludes VAT.
Shipping cost calculated in checkout.
Notice:
Please be aware that CT-IPEH-002222 is expected to be available in Q4 2023, but there is no specific date yet. You are welcome to place your order to reserve your units as products will be sent on a first come first served basis as the items become available.
Downloads
Specification
Share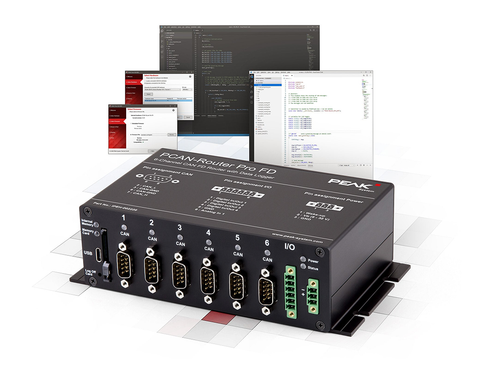 PCAN-Router Pro FD
Programmable 6-Channel Router for CAN and CAN FD with I/O and Data Logger
With six channels, the PCAN-Router Pro FD links the data traffic of modern CAN FD and classic CAN buses. Pluggable CAN transceiver modules allow flexible adaptation of each CAN channel to the respective requirements. In addition, the router is equipped with an analog input and four digital I/Os. The CAN messages can be recorded on the internal memory or on an inserted memory card and later read out via the USB connection. With the PCAN-Router Pro FD the data flow of test benches and production plants can be managed, monitored, and controlled. The conversion from CAN to CAN FD or vice versa enables the integration of new CAN FD applications into existing CAN 2.0 networks.
The behavior of the PCAN-Router Pro FD can be programmed freely for specific applications. The firmware is created using the included development package with GNU compiler for C and C++ and is then transferred to the module via CAN. Various programming examples, such as message forwarding or recording, facilitate the implementation of own solutions.
Requirements: The transfer of the firmware via CAN requires a PEAK CAN interface.
Specification