SKU: CT-IPEH-004038
PCAN Repeater DR
Regular price

$327.00
Sale price
Pricing excludes VAT.
Shipping cost calculated in checkout.
Notice:
Some of our products are on varied lead times, For confirmation on when you can expect your order to arrive, please call in and speak to one of our experts.

Our team are available from 9:00am - 5:00pm on +44(0) 1234 247 176 and will be happy to discuss any questions.
Downloads
Specification
Share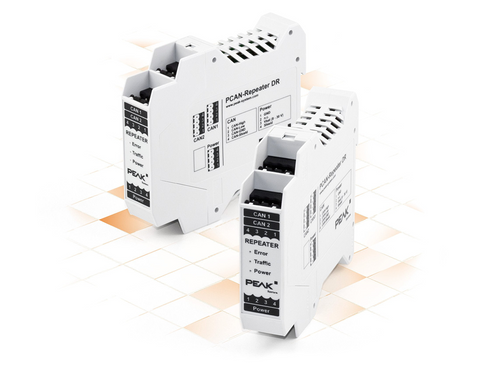 PCAN Repeater DR: CAN and CAN FD Repeater for the Decoupling of Bus Segments
The PCAN-Repeater DR establishes a connection between two High-speed CAN busses with galvanic isolation of up to 5 kV. Both CAN channels are decoupled from each other and from the power supply. All message traffic including error frames is forwarded 1:1 between both channels, if necessary, in one direction only. The PCAN-Repeater DR behaves passively and is transparent from the perspective of the CAN bus. LEDs display the current bus status. With its DIN rail casing and extended temperature range support, this module is suitable for use in an industrial environment.
The PCAN-Repeater DR can be used in CAN FD busses with data bit rates up to 4 Mbit/s and nominal bit rates up to 1 Mbit/s.
Please note: Due to the CAN protocol, the maximum length of a CAN bus depends on the bit rate. Therefore, a bus cannot be extended with the PCAN-Repeater DR. The physical total length of the CAN bus is reduced with each built-in PCAN-Repeater DR according to its signal delay.
Specification